Pancakes for Idols and Fools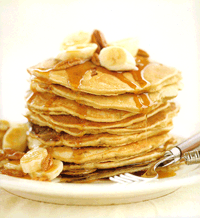 We interrupt this blog to bring you the best pancake recipe that exists.
If you're celebrating Shrove Tuesday but can't bear to leave your TV because Idol is on tonight, this is the recipe for you.
What are you giving up for Lent? All I know is, it won't be these pancakes!
Homemade Pancakes
(enough for two really hungry people)

2 Eggs (seperated)

1 teaspoon sugar

1/2 teaspoon salt

2 teaspoons baking powder

1/4 cup oil

1 cup milk (plus some later for consistency)

1 1/3 cup flour

1 tsp. vanilla (opt.)


Beat egg whites until stiff - set aside.

Beat egg yolks, add sugar and salt, beat in.

Add baking powder, beat until just mixed in well.
Add flour, milk, and oil. Beat until smooth(not too much otherwise the baking powder won't react correctly) and add vanilla.

Add egg whites to batter and FOLD gently. Let batter sit for 15-30 minutes prior to cooking.




Get ready to pat your tummy! I'll never go back to Bisquick.